Become a
Clean Air School!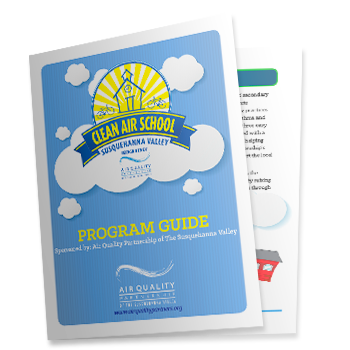 Download the free program guide today and do your share for cleaner air!
Clean Air School Program Guide
Please contact Elizabeth Edkin at info@airqualityaction.org
It's Free! It's Easy! It's Good For Our Kids!
The Air Quality Partnership of Lehigh Valley-Berks is proud to introduce a new program designed to provide recognition for schools that utilize the free educational resources and support services available through the partnership.
Your participation can help protect young lungs from the health risks of air pollution, promote environmental stewardship in your students and help us continue to improve the air quality in our communities.
There are three easy steps to earn recognition as a Clean Air School:
Sign up to receive the Air Quality Forecast

Utilize the free lesson plans in AQI Toolkit for Teachers

Select a clean air project for your school with free support and resources provided by your local Air Quality Partnership
Try a fun clean air project at your school!
The following projects are intended to be educational, fun and easy to implement. Each project can be customized to fit your needs and you will receive free materials from your local Air Quality Partnership.
Walk or Bike to School Day – Designate a day to encourage students to walk or bike to school

Share the Ride/ Ride the Bus Challenge – Host a contest for students to car pool or ride the bus

Do Your Share for Cleaner Air Door Decorating Contest – Allow classes to display their own air quality messages through art

Earth Day Celebration – Celebrate our environment with an Earth Day Fair

Adopt a No Idling Policy – Discourage cars and buses from idling in the school parking area