Air Quality
Toolkit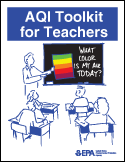 Teacher's Gift Card Giveaway!
Thank you for utilizing the AQI Toolkit for Teachers. Please fill out and submit the form at right for a chance to win a $100 Gift Card for your class. *Only teachers at schools located within the Air Quality Partnership of Lehigh Valley – Berks area are eligible to win this contest, which includes Berks, Lehigh and Northampton Counties.
Entries will be accepted until October 24, 2014. One winner will be chosen and notified via email or telephone no later than October 27, 2014.